Eckerd College
I studied Computer Science and Mathematics at Eckerd College. Located on 188 acres of waterfront property in St. Petersburg, Florida, Eckerd College is a private, coeducational college of liberal arts and sciences. I graduated in December 2013 with a Bachelors of Science degree. I financed 100% of my tuition costs through scholarships and multiple part-time jobs. I was very active at Eckerd College beyond my coursework:
I was a Resident Advisor (RA) from 2001 - 2003.
Activity Coordinator for

the International Students Association, Festival of Cultures, and Festival of Hope.

Honorable mention at the ACM ICPC Southeast region programming contest in 2001, 2002 and 2003.

I worked as a TA to aid in the instruction of computer art classes.

I worked as a TA to aid in the instruction of computer science classes.

I worked as a TA to aid in the instruction of mathematics classes and hosted office hours supported students with questions.

I worked in the computer labs providing tech support, install, configure and troubleshoot hardware, software and network connections.

I worked as a web developer to update 6 different websites at Eckerd College which were responsible for a 75% increase in online enrollment in classes.

Member of Pi Mu Epsilon, Mathematics Honor Society.
Appointed as the student representative in the Eckerd College Computing Resource Policy Group in 2002.
Below are a few pictures from the programming contests and graduation.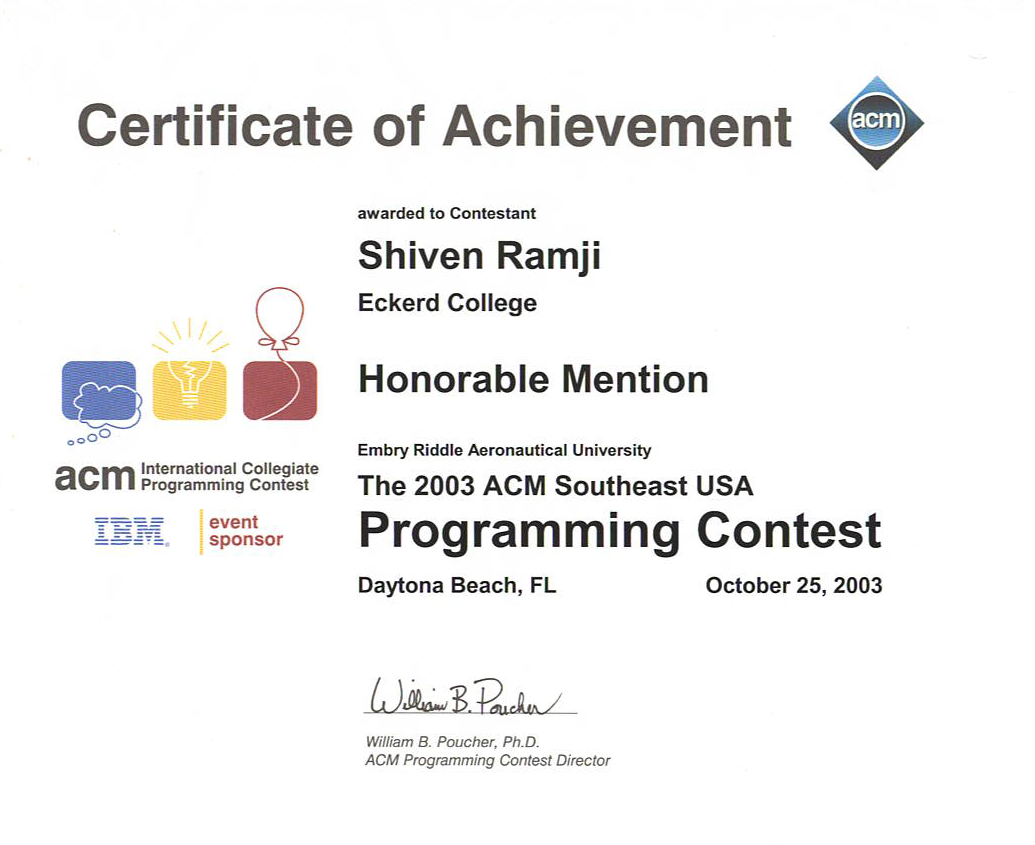 Aga Khan Mzizima Secondary School (AKMSS)
I finished my high school in Dar-Es-Salaam, Tanzania. AKMSS offered the Tanzanian National 'A' levels for students in Forms 5 & 6. NECTA 'A' levels are an extremely challenging pre-university course. This qualification is recognized by universities in Tanzania, throughout East Africa and in many overseas universities, particularly if students have achieved a Division 1 in the science combinations. I studied the Physics, Chemistry and Mathematics (PCM) combinations.